Steady reeling yields from the glide bait a wide, sweeping action.The action is what makes these lures so irresistible. These lures work side to side, with a wide sweeping, "S" curve action, with just the crank of the handle. This mimics a wounded baitfish on its way out; an easy meal to gamefish.

I was recently fishing Charlotte Harbor with (Capt. Jay Withers of Silver Lining Charters) throwing the Westin Swim Glide Bait, working mangrove edges for big, laid-up snook.

"I love these glide baits because I can hand the rod to a new client and all they have to do is reel and will get bit. You can work it like a gold spoon," said Withers.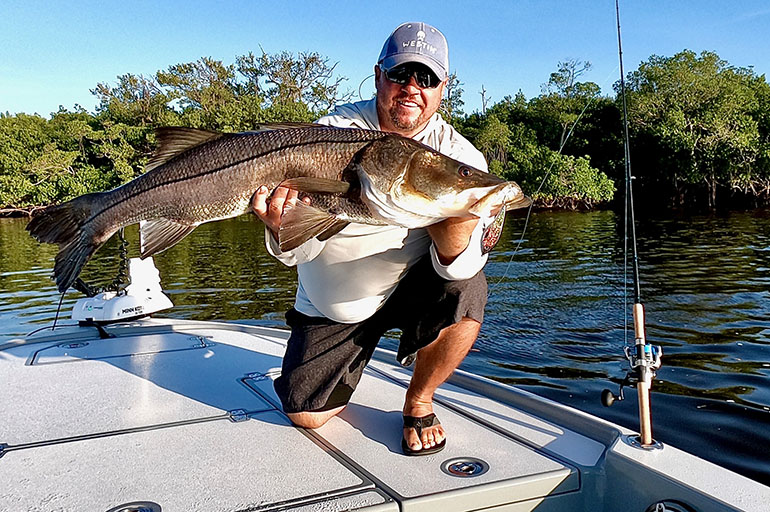 There's no need to even move your rod tip; you control the action with the reel. You want a hard dart? Make a brisk, quarter-turn of the handle. Pause. Let it sit and it will suspend like a wounded baitfish. Rip it back to the boat for a hard vibration and erratic action.
"I've even ripped them across shallow water reefs and wrecks only to have kingfish sky on them," exclaimed Withers.
This larger profile, matched up with the wide, sweeping action can really wake up a big fish that may not want to run down a smaller, faster bait. It almost seems to just taunt the fish.
"I think it gives the lethargic and spooky fish a little different look than most lures," said Withers. "It doesn't make a crazy action, which is good for these fish."
The versatility produces bites just about anywhere inshore. Sweep it down the upcurrent side of a dock for fish staging into the current. Throw it along bridge shadow lines at night. Work it along the edges of a bait school on the flats. It's hard to go wrong.
With the action of this lure, you'll want to give it as much free movement as possible, not impeding on the action. Withers prefers the canoeman loop knot when fishing a glide bait. I like to throw these lures on a 7-foot, medium-action G.Loomis IMX-PRO Blue, paired with a Shimano Curado DC. This not only makes throwing these big lures easy but does not wear you out when throwing them for hours, nor do you compromise the backbone needed for fighting big fish.