Autumn has arrived, but there's still plenty of boating season left. Here's a selection of gear to enhance your safety, comfort, and fun — afloat and ashore.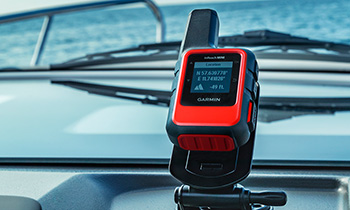 Small But Mighty
You can't put a price on safety, but what if there was a piece of gear that could be used every time you go out and could also save your life? Enter the perfectly named Garmin InReach Mini. Weighing just 3.5 ounces, measuring a mere 4 inches tall and 2 inches wide, including the antenna, and operating on the Iridium satellite network, the Mini offers global coverage and enables users to send and receive texts. Its most useful feature is the ability send an SOS to summon help in an emergency when you're out of cell and VHF range. Another handy feature is the ability to leave a breadcrumb trail via a MapShare portal so friends and family at home can track your progress. Water-rated to IPX7, it will stand up to immersion for 30 minutes. The manufacturer claims the rechargeable lithium battery is good for up to 20 days between charges.

Power Tool
Having a few basic tools easily available can often enable you to carry out essential maintenance tasks or get you out of trouble. The SOG PowerAccess multi-tool comes with a handy pouch with a belt loop so you can carry it with you everywhere. The PowerAccess features no fewer than 21 tools including a selection of screwdrivers, wire cutters, file, can opener, and even a wood chisel. That said, the two tools likely to get the most use are the knife blade and pliers, which, like the other gadgets, are made from stainless steel.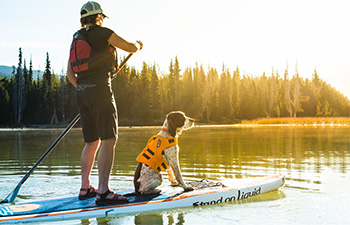 Man's Best Friend
A lot of members enjoy boating with their dogs, and just like human crewmembers, they need to be kept safe. One of the best things you can do is to fit Rover with a life jacket. The Float Coat from Ruffwear fits well and is fully adjustable with wide web straps and snap buckles. The life jacket is available in six sizes from extra small to extra large; one will be right for your pup. A wide padded neck strap prevents the life jacket from rotating and keeps your pet secure. Choose from red, orange, or turquoise. All have reflective trim for better visibility. A stand-up padded handle on the top of the jacket is easy to grab by hand or boathook.
See & Be Seen
An automatic identification system (AIS) is essentially a "black box" that transmits your boat information, speed, position, heading, name, and call sign to other vessels similarly equipped. Vesper Marine's Watchmate XB6000 is easy to install and connects to almost any multifunction display (MFD) via the NMEA2000 network allowing users to positively identify vessels even when they are out of visual range or obscured by bad weather. AIS not only allows you to see and be seen but it could be a real lifesaver, allowing rescue services to pinpoint your position with certainty in an emergency.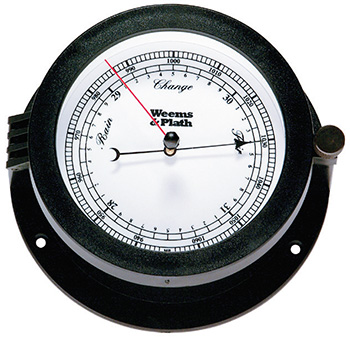 Under Pressure
Barometric pressure is one of the primary measurements in weather forecasting. One of the most common ways of measuring it is the aneroid barometer. The Bluewater Barometer from Weems & Plath has an overall diameter of 5.5 inches and a depth of just under 3 inches. Although intended to be mounted on a bulkhead in a boat cabin, it would be a conversation piece at home to track approaching weather fronts. Scales are shown in millibars and inches on the easy-to-read bezel.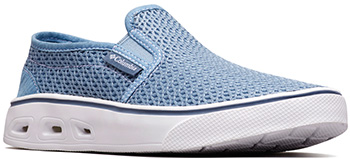 Step Lightly
Many so-called boat shoes are better suited to the marina bar rather than life afloat, but these women's Spinner Vent Moc Shoes from Columbia are made for serious boating. The mesh slip-ons have vented midsole ports and come in black, light tan, and pale blue, all with nonmarking ultra-traction outsoles. They're extremely lightweight: just 7 ounces per pair! Available in ladies' sizes 5 to 11; whole and half sizes, 12.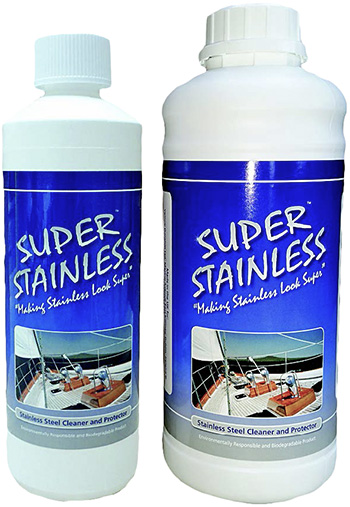 Super Shiny
Contrary to its name, stainless steel does corrode, and when it does, it starts to look awful. Regular maintenance and a coat of wax will often stop the worst of it, but what do you do if the metal's been let go? Super Stainless from Tides Marine could be the answer to keeping it looking spiffy. Apply a liberal coating of the jelly-like cleaner to the corroded stainless, let it sit for about 30 minutes, then rinse it off with freshwater. While more traditional polishes may do a better job of bringing out the shine, Super Stainless is perfect for fixtures and fittings with lots of nooks and crannies that are hard to tackle by more traditional techniques.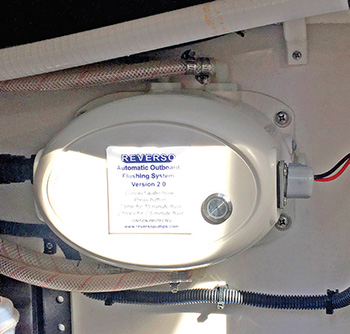 Flushed With Success
Maintenance is crucial to keeping your outboard running well year after year. It's essential to flush clean water through the engine's cooling system regularly — ideally after every trip, and especially if you boat in saltwater. However, connecting a hose to the flushing port of each engine can be a chore, so many boaters forego this critical step.
Reverso, best known for its series of oil-changer pumps, has come up with a neat and smart solution. The Automatic Outboard Flushing System (Version 2.0) consists of a 12-volt pump mounted on a bulkhead below deck with flexible hoses permanently connected to the engine's flushing port. Water is supplied either from an onboard tank or dockside hose with a quick-disconnect fitting. Once you're back at the dock, connect the water and turn on the pump, which runs for a predetermined time to flush contaminants from the motor's internal water galleries before shutting itself off. Units are available for single, twins, triples, and quad outboard setups.