Florida, often known as "The Sunshine State," is widely regarded as the "boating (and yachting) capital of the world by many visitors from across the world. This comes as no surprise to boaters, who know that where there's a lot of sun and water, there's certain to be a lot of boats. We've detailed the top ten finest spots to boat in Florida, from the United States' southernmost point through the Florida Gulf Coast, the Atlantic Ocean, and across the Panhandle.
1. Florida Keys
Boating in The Keys is best described as "variety in paradise." This 100-mile stretch of islands features world-class offshore and inshore fishing, several reefs and wrecks for snorkeling and diving, tropical sandbars, and warm, gin-clear water that is very appealing.
Furthermore, you'll discover a plethora of waterfront drinking establishments and eating alternatives to pick from, as well as diversity within each town that will satisfy both the homebody and the party-goer.
2. Charlotte Harbor
Charlotte Harbor, which is often neglected, has the atmosphere of the Florida Keys but on a smaller scale. It's a boater's paradise, with its many islands and pristine, uncrowded beaches. The inshore and offshore fishing is world-renowned, and it is frequently used as the backdrop for a variety of famous fishing shows.
Boca Grande, Cabbage Key, Useppa Island, Cayo Costa, North Captiva Island, Captiva, and Sanibel Island are all popular destinations. There is no better spot in Florida to set up your own private anchorage.
3. Jupiter/Palm Beach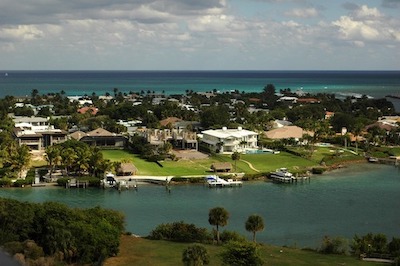 The Jupiter/Palm Beach region is possibly the most beautiful on Florida's east coast. This site appears to offer the perfect combination of everything, from incredible offshore and inshore fishing to crystal clear water and remarkably near proximity to the Gulf Stream, as well as easy access to the northern Bahamas.
There are also a few sandbars for sunbathing and plenty of sightseeing opportunities along the Intracoastal Waterway, particularly near Palm Beach and Jupiter Island. The Palm Beach Inlet is one of the safest routes on the east coast, and the Jupiter Inlet, with its crystal-clear water and iconic lighthouse background, is probably the most picturesque.
4. Tampa Bay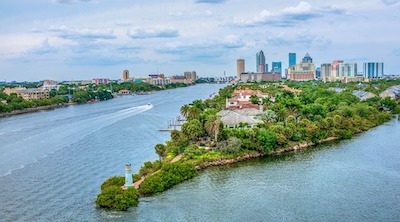 Tampa Bay is a wonderful boating destination with a plethora of possibilities. Boaters may fish in the large bay, travel offshore, or take a day cruise to Downtown St. Pete or Downtown Tampa. They may also spend the day resting on a number of beautiful islands. Caladesi Island, Egmont Key, Passage Key, and Beer Can Island (all inside Tampa Bay) provide tourists with a variety of options and miles of quiet beaches and sandbars to anchor.
This region's tremendous vitality and active culture give extra benefits. You may even dress up as a pirate and raid Tampa during the annual Gasparilla Weekend with hundreds of other vessels.
5. Fort Lauderdale/Miami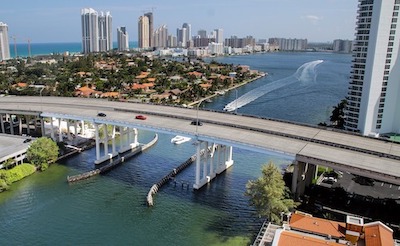 This is the most popular boating location in the world. Fort Lauderdale has an abundance of canal-front housing and tourist opportunities, as well as a lively downtown. You'll also find everything you need to service your boat or yacht right here. While Fort Lauderdale does not have many inshore relaxation spots, Miami has.
Miami is a boater's paradise, with its renowned skyline as a background. Haulover and Nixon Beach are popular sandbars, and South Beach and Coconut Grove have fantastic nightlife. This location has several advantages, including warm tropical seas, excellent inshore and offshore fishing, and close to Bimini and the Florida Keys.
6. Crystal River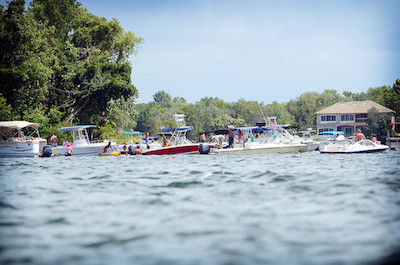 While it may not appear so at first look, Crystal River is well-deserving of a spot on our list. The range of alternatives and the family-friendly setting is what make this region so appealing to boaters.
In Crystal River, you may spend the day fishing offshore or inshore, or you can switch gears and visit one of the area's three freshwater springs. The springs are ideal for swimming and snorkeling and are fantastic locations to visit, especially after a day of scalloping! The cold, clean, fresh water is a welcome respite. Furthermore, your boat will appreciate it!
7. Sarasota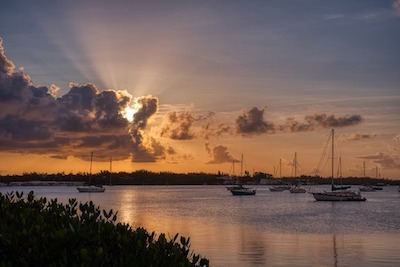 Sarasota is a fantastic spot to boat because it is located north of Charlotte Harbor and south of Tampa Bay. This region has a variety of fishing opportunities, but it truly shines as a boating paradise due to its gorgeous water, numerous sandbars, unspoiled beaches, and tranquil conditions.
In addition, Downtown Sarasota is a great spot for transient boaters and sailors to rent a slip or mooring ball and explore. To the north, prominent villages include Siesta Key, Longboat Key, and Anna Maria Island.
8. Stuart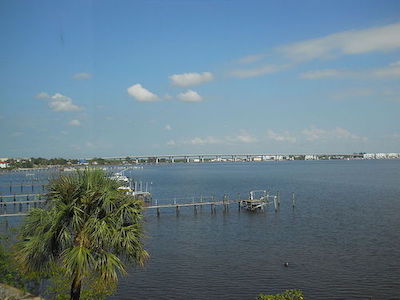 The offshore fishing in this coastal hamlet, known as the "Sailfish Capital of the World," speaks for itself. Inshore fishing is also excellent, with some of the largest Snook in Florida found in these waters.
The St. Lucie Inlet is one of the nicest on the east coast, and the Stuart Sandbar is a favorite spot for sailors wanting to unwind. When you combine fantastic diving with easy access to the Northern Bahamas, Stuart becomes one of the greatest boating destinations.
9. Destin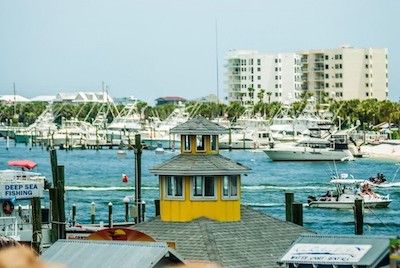 Destin, located on Florida's western panhandle, is a boater's paradise. It is a popular tourist attraction due to its emerald-colored sea, unspoiled beaches, and shoreline, and the world-famous "Crab Island" sandbar. It's equally outstanding inshore and offshore fishing, as well as several boat-friendly food options, making it a destination not to be missed.
10. St. John's River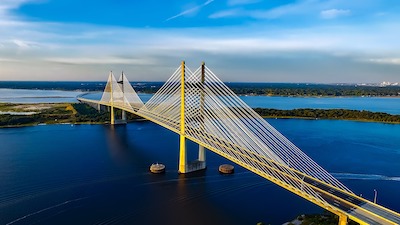 The St. John's River, which runs from Jacksonville to the east of Orlando, epitomizes "Old Florida." The 310-mile river offers a surprising number of boating possibilities. The Jacksonville region has excellent ocean and freshwater fishing, as well as a variety of waterfront eating options and game-day boating activities for professional and college sporting events.
As you travel south on St. John's, you'll pass several lakes and coves ideal for freshwater fishing and watersports, as well as various rural villages to enjoy. Aside from all of that, one of the finest things to do on the St. John's is to visit one of its many freshwater springs. Boat-accessible springs such as Silver Glen Run, Salt Springs, Juniper Springs, and Blue Spring can all be found along the St. John's River and are well worth a visit.